Congrats!
You made it to our GILI website!

A WHOLE COUNTRY COULD BE FED WITH THE FOOD WE WASTE

What if we told you that ordinary juicers throw away their extracted fruit? It's huge, right?
1/3
World's food is wasted
1.6 Billions
Tonnes of food is wasted Globally each year
Remember when your mum wouldn't let you leave the table until you'd finished all the food on your plate? That must have stuck with us because now we ensure that none of our delicious ingredients end up in the bin!
At GILI we decided to act to make a difference. That's why we looked for a solution to re-use our ingredients' pulp and fibers. This is how our zero-waste herbal tea came to life.
With the leftover ginger & lemon pulp coming from 1 bottle of our GILI ginger elixir 700mL, we create 3 packs of GILI ginger-lemon herbal tea .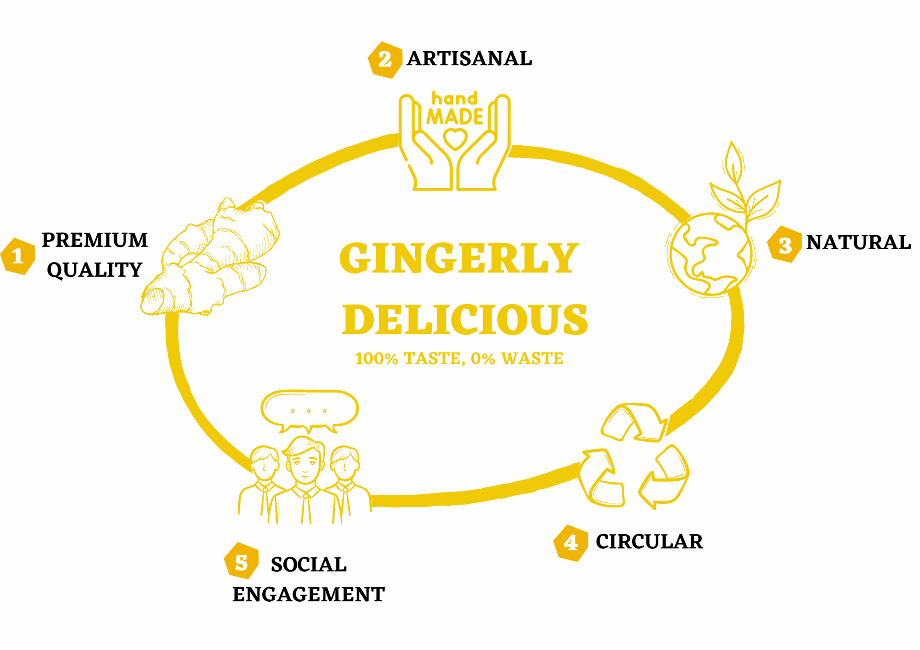 1

PREMIUM QUALITY
We carefully select fresh & organic ingredients.
2

ARTISANAL
We then cold-press the certified super ingredients locally every week to ensure the quality and freshness of our products.
3

NATURAL
After juicing, we bottle our drinks without adding artificials. We ensure our products to be free from colorants, preservatives, chemicals, refined sugars or other additives to maintain the same quality as at home.
4

CIRCULAR
Whilst we bottle our elixirs, we recycle our fruit pulp in containers. After production, we freeze-dry the ginger -and lemon pulp to be transformed in a ginger-lemon herbal tea. That's how we limit food waste.

5

SOCIAL ENGAGEMENT
To make sure we include as many people as possible in our production process, our tea is locally canned in a sheltered workshop.
+15 TONS
of Co2 emission avoided
90.000 km
of driving emission avoided
19 years
of drinking water saved
39.000 m2
of land saved from pesticides